The Creativity Park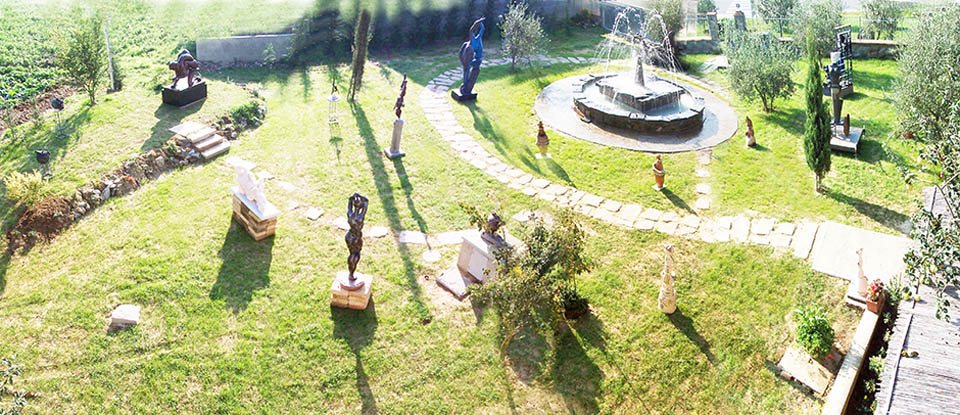 On Tuesdays and Fridays (meeting point and time: opposite the Park entrance at 17:30), a very special guide, that is Andrea Roggi himself, will take you on a journey of discovery through the artworks on display. Refreshments will be offered at the end of the tour. The "Creativity Park" is the ideal destination for art lovers and nature enthusiasts or for those simply seeking something different in the Chiana Valley region. The visit can be attended by people of all ages and the guided walking tour follows a track about 300-meter long.
 For groups:
 a free parking space is available opposite the Park. People with disabilities:
the Park trail is accessible to wheelchair users. Children:
the Park is a great place to visit with children. The Creativity Park, located in Manciano, a hamlet in the municipality of Castiglion Fiorentino, has been established as a personal initiative of sculptor Andrea Roggi, who has devoted to this project more than a decade of work. In 1999, the monument honoring Roberto Benigni was unveiled, as a reminder that Manciano is not only the home town of the great film maker, but also a place where art is expressed in all its forms. Since then, the Park has expanded and over the years has hosted many events, such as group and solo exhibitions by young and renowned artists, promoting the understanding and appreciation of sculpture not only as an artistic and creative experience reserved for a select few connoisseurs, but above all as a unifying and culturally uplifting opportunity for all. Creativity is therefore the common thread and the driving force that runs through and brings life to the Park, engaging notably children and young people. Sculptures, trees, the sounds coming from the large fountain and every other natural element, all blend together in perfect harmony.
Find us
Strada provinciale 25 n. 236a, 52043,
Manciano, Castiglion Fiorentino, Italy
Ingresso gratuito
Visite solo su prenotazione
contattando il +39 0575 653401, +039 333 6461405
Visita guidata esclusiva da Aprile a Settembre (su prenotazione)