Andrea Roggi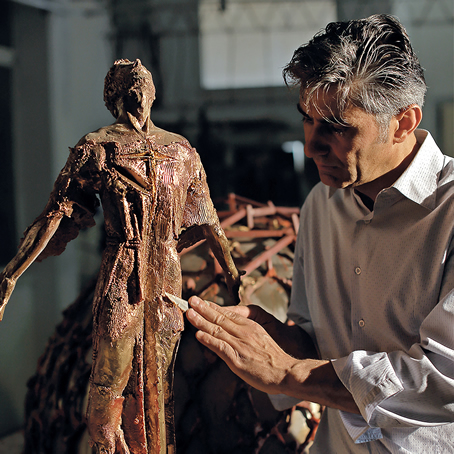 In 1991 he set up the art workshop La Scultura di Andrea Roggi, where he has been crafting his sculptures from start to finish and, with the help of his assistants, he manages to create large-sized yet finely detailed pieces. Bronze is the material he chose, which he puts through the lost-wax casting process to finally transform the clay models into masterpieces.
In 2017, fascinated by the imposing quarries that surround the town of Pietrasanta, the artist began to dedicate himself to the creation of artworks in marble.
In the late 90s he became the initiator of the Art for Young movement, aimed at awakening an appreciation of art and all art forms in young people. The movement has culminated with the inauguration of the Parco della Creatività, its crowning achievement. Since 2000, Roggi has been pursuing a fruitful collaboration with the University of Georgia, based in Cortona, and with the University of Texas, based in Castiglion Fiorentino, where he holds workshops and courses on sculptural techniques. In the early 2000s, he became fascinated with one of the most prominent intellectual figures in Tuscany, Pier Francesco Greci, especially with his theories about the art of Piero della Francesca. Roggi has produced a number of public artworks located in Italy — mostly in Tuscany and Umbria — and abroad. His works are featured in many art collections around the world and he has participated in various national and international exhibitions held at major venues such as the Olympia Grand Hall in London, the Ahoy in Rotterdam, the Grand Palais in Paris, the Grimaldi Forum in Monaco, the Fukuoka Oishi Gallery and Fukuoka City Museum in Japan.
Via Casali, 6 52044 Cortona, Italia tel +39 0575 653 125 roggicortona@gmail.com
Via del Marzocco, 5 55045 Pietrasanta, Italia tel +39 0584 332 300 roggipietrasanta@gmail.com
Via Palestro, 2 53037 San Gimignano, Italia tel +39 0577 940 760 roggisangimignano@gmail.com
mob +39 333 6461 405